The Red Rose Girls were a group American artists who were active in the early 20th century;  Jessie Willcox Smith, Violet Oakley and Elizabeth Shippen Green all had distinguished careers and continue to be inspirations for aspiring women artists today.

From left to right: Elizabeth Shippen Green, Violet Oakley, Jessie Willcox Smith and Henrietta Cozens in their Chestnut Street studio (1901)
Smith and Green produced many illustrations for children's books as well as for some of the largest publications of the day including Scribner's, Collier's, Haper's, Ladies Home Journal and Good Housekeeping. Oakley became an accomplished muralist and spent a good part of her career painting murals for the Pennsylvania State Capital building.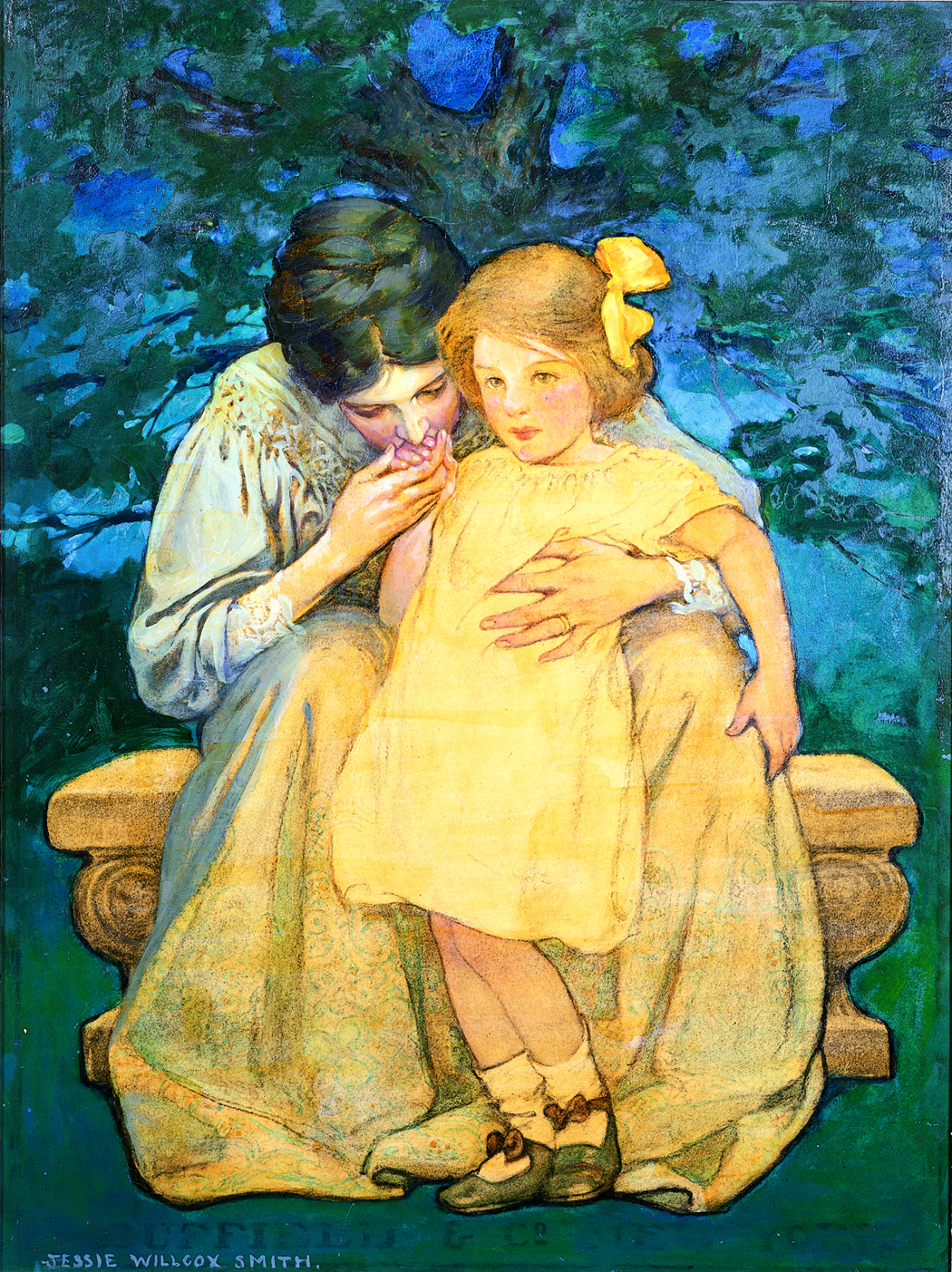 Mother and Child - Jessie Willcox Smith (1908)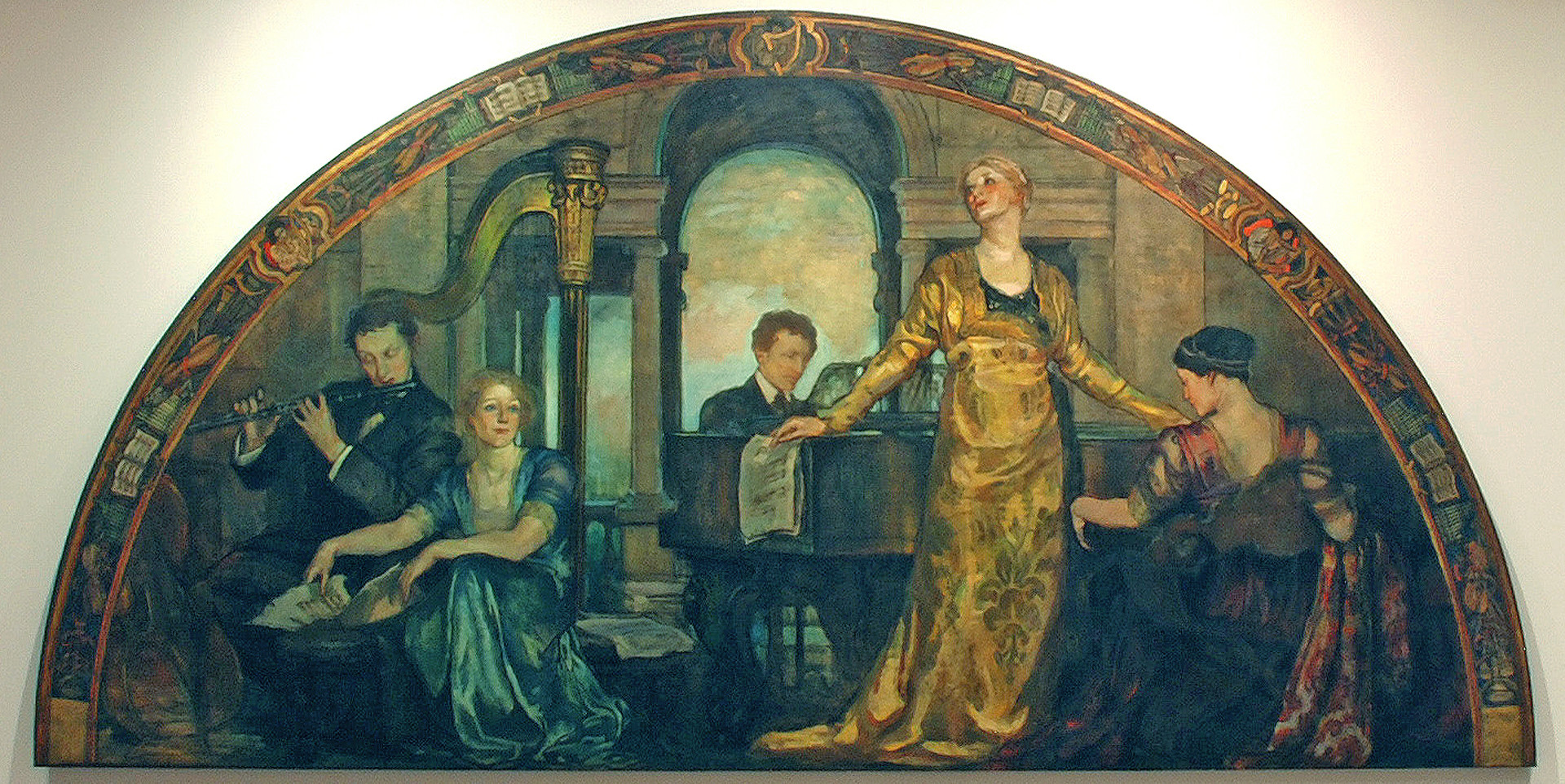 Youth and the Arts - Violet Oakley (1910-1911)
They were fortunate to have the support of their families to train as artists, which at the time, was one of a limited number of viable careers for young women to consider. The default "career" for most women was to become wives and mothers. Other possibilities included teaching, housekeeping and sewing but competition among women for these types of careers was fierce and wages were relatively low.

The Journey - Elizabeth Shippen Green (1903)
Smith, Oakley and Green were also fortunate to start their careers near the turn of the 20th century when there was a large and growing demand for artists and illustrators to create pictures for popular books, periodicals and magazines.  While the opportunities for women artists were growing there were still systemic barriers in artist training including the prohibition of using live nudes in sketching classes.  These unfair customs were beginning to be challenged though by women artists surreptitiously taking turns at being the live nude model for the others.

The Womens' Life Class - Alice Barber Stephens (1879)
The three women met while attending an illustration course at the Drexler Institute taught by Howard Pyle, an accomplished illustrator and writer famous for his creation of Robin Hood.  One day he assigned Smith and Oakley to work together on an illustration project and they discovered that they enjoyed working cooperatively which proved to be the spark for a lifetime of friendship and collaboration.

The Genius of Art - Howard Pyle (c.1903)
Pyle was instrumental in getting  a commission for Violet and Jessie to illustrate the novel Evangeline by Henry Wadsworth Longfellow in 1897 and he urged the women to follow a  professional career path which would allow the full development of their artistic potential as well as provide them with financial independence.  Oakley and Smith became roommates with Green and a fourth woman, Henrietta Cozens, who wasn't an artist but who acted as a "wife" for the other three and took care of all domestic necessities.
From left to right: Elizabeth Shippen Green, Violet Oakley, Jessie Willcox Smith and Henrietta Cozens (ca.1901) Above - official publicity photo Below - moments after the above
They first lived together in a studio apartment in Philadelphia and later moved to a more spacious and tranquil location in the suburbs called The Red Rose Inn - which is how they acquired their nickname.  The four women were completely devoted to each other and made a vow to live together as a family forever - they even gave themselves a communal surname - Cogs - which represented the first letter of each of their maiden surnames. The communal family grew over time to include cats and a dog, Prince, and elderly members of Elizabeth's and Violet's family.
.

Violet Oakley
The Red Rose Girls were much more than just artistic colleagues or friends; their communal family shared many characteristics with what was known at the time as a "Boston marriage", which was the term used to describe  unmarried women who lived together in supposedly asexual relationships, but which featured emotional intimacy and openly expressed passionate love.  Such romantic friendships were accepted by society because women were assumed to be asexual unless part of a heterosexual marriage; they were thus considered a suitable life choice for newly independent women who chose a career over a husband and children.

Elizabeth Shippen Green and Jessie Willcox Smith (date unknown)

Elizabeth Shippen Green, Jessie Willcox Smith, Violet Oakley at home (date unknown)
One can see evidence for the societal acceptance of Boston marriages in the late 19th and early 20th century by looking at the campus culture(s) at all-women universities of the time.  Officially sanctioned social activities prohibited men from attendance but encouraged the formation of strong emotional ties among the students.  The events were meant to be romantic affairs and any resulting infatuations between students evidently did not displease the young women, the university administrators nor the general public.

Daisy Chain Procession At Vassar - Fay Poughkeepsie
 
An article in the January 1985 periodical The Century entitled "Festivals in American Colleges for Women" describes one event at Smith College:
"Looking down from the running-track on seven or eight hundred girls dancing together, one is struck by the almost theatrical effect of the swaying forms and bright colors against the background of lavish decoration with which the second class has tried to outdo the class above. Men are not missed, so well are their places filled by the assiduous sophomores. Each new girl is escorted to the gymnasium by her partner, who in addition to filling her dancing-card and sending her flowers, provides her with a "memrobil," sees that she meets the right person for each dance, entertains her during refreshments and escorts her home."

Vassar Class Day on the Lawn  (1895)
Boston marriages were quite common among women faculty at women's universities and colleges in the late 1800s and early 1900s.  According to Lillian Faderman, of the 53 women faculty at Wellesley College in 1895 only one was married to a man and most of the rest were living with a woman.

Promenade by Constant - Emile Troyon (c.1850)
Society's perceptions about the innocence and benevolence of romantic friendships between women slowly began to change, first in Europe and later in North America. Psychologists and sexologists started to look into the nature of women's romantic friendships and found that in many cases the women involved were not asexual and were instead having genital  sex with each other.  An article by Dr. Havelock Ellis in a 1902 issue of the Pacific Medical Journal warned that the crushes that young women developed in all-women colleges were increasingly showing signs of physical affection:
"They kiss each other fondly on every occasion. They embrace each other with mutual satisfaction. It is most natural, in the interchange of visits, for them to sleep together. They learn the pleasure of direct contact, and in the course of their fondling they resort to cunnilinguistic practices. . . . After this a normal sex act fails to satisfy..."

In Bed, The Kiss - Henri Toulouse-Letrec (1892)
The alarm of the researchers slowly seeped into the attitudes and perceptions of society and by the 1920s Boston marriages and romantic friendships between women were beginning to be regarded as likely places of "abnormal" and "deviant" sex.  The word lesbian began to be used to describe women who lived together and it was presumed that such relationships included sex.

Alice Austen - The Darned Club,  October 29, 1891. (from left to right Alice, Trude Eccleston, Julia Marsh and Sue Ripley. (The name Darned Club was coined by local disrespectful men)
The Red Rose Girls were probably not aware of the gradual change of society's attitude about their communal family, and thus they probably saw nothing abnormal at all about their mutual affection, even if it did include sleeping together and having sex. The consensus of opinion seems to be that they likely were lovers in the contemporary sense but without the concrete recognition of it from society (either positive or negative). One can imagine that from their point of view their relationship(s) were a blissful state of  natural and normal love between women.

The Kingdom of Heaven - Violet Oakley (1903)
Elizabeth, Violet, Jessie and Henrietta  were inspiring role models who showed how women could become professionally successful and financially independent through hard work and mutual support. They exemplified the "New Woman" movement of the time which was the term given to women who were educated, vocal, and increasingly free of oppressive social norms. They remain inspirations today for the same reasons but also for the example of their communal and romantic family, which in today's atmosphere of acceptance of alternative lifestyles, could be considered as a valid model  for many, if not most women.
 
Life was Made for Love and Cheer - Elizabeth Shippen Green (1904) [depicts Green, Smith, Oakley and Cozens with friends and guests at the Red Rose Inn. Their St. Bernard, Prince is in the foreground.]

from A Child's Garden of Verses - Jessie Willcox Smith (1905)

Trio at Cogslea: Elizabeth Shippen Green, Henrietta Cozens, and Jessie Willcox Smith - Violet Oakley (unfinished)
References:

The Library - Elizabeth Shippen Green (1905)
The Red Rose Girls: An Uncommon Story of Art and Love - by Alice Walker
https://www.amazon.com/Red-Rose-Girls-Uncommon-Story/dp/0810944375
An excellent biography, highly recommended.

Boston Marriages: Romantic but Asexual Relationships Among Contemporary Lesbians by Esther D. Rothblum (Editor)
https://www.amazon.com/Boston-Marriages-Romantic-Relationships Contemproary/dp/0870238760

The Red Rose Girls -New Exhibit Documents Early 20th Century Trio of Women Artists,  an audio interview with author Alice Carter
https://www.npr.org/templates/story/story.php?storyId=1507247

#HerStory 11: The Red Rose Girls by Janet K Lee, a short podcast interview
https://herstory.chickhistory.org/2014/03/11/chick-history-herstory-11-the-red-rose-girls-by-janet-k-lee/

"God-gifted girls": The Rise of Women Illustrators in Late Nineteenth-Century Philadelphia by Patricia Smith Scanlan
http://www.ncgsjournal.com/issue112/scanlan.htm

Roses in January - January 9, 2012 blogpost in Wissahickon Schist:
Gardening in Northwest Philadelphia along the Wissahickon Watershed
http://wissahickonschist.blogspot.com/2012/01/

AMERICAS FINEST: THE RED ROSE GIRLS (1863-1935) - February 23, 2013 blogpost in VICTORIAN MUSINGS
https://kimberlyevemusings.blogspot.com/2013/02/americas-finest-red-rose-girls-1863-1935.html

THE GOLDEN AGE OF ILLUSTRATION: THE RED ROSE GIRLS - November 21, 2017 blogpost in ENCHANTED CONVERSATION: FAIRY TALES, FOLKTALES & MYTHS
http://www.fairytalemagazine.com/2017/11/the-golden-age-of-illustration-red-rose.html

The Early Career of Violet Oakley, Illustrator by Bailey Van Hook
Woman's Art Journal, Vol. 30, No. 1 (Spring/Summer 2009), pp. 29-38

A Grand Vision: Violet Oakley and the American Renaissance
https://woodmereartmuseum.org/experience/exhibitions/a-grand-vision-violet-oakley-and-the-american-renaissance

Red Rose Girls by Mark W. Sullivan, entry in The Encyclopedia of Greater Philadelphia
https://philadelphiaencyclopedia.org/archive/red-rose-girls/

Howard Pyle, a blog by Iab Sschoenherr
https://howardpyle.blogspot.com

Alice Austen House, The Darned Club
https://aliceausten.org/darned-club

Boston Marriage
https://en.wikipedia.org/wiki/Boston_marriage

Red Rose Girls
https://en.wikipedia.org/wiki/Red_Rose_Girls

Elizabeth Shippen Green
https://en.wikipedia.org/wiki/Elizabeth_Shippen_Green

Jessie Willcox Smith
https://en.wikipedia.org/wiki/Jessie_Willcox_Smith

Violet Oakley
https://en.wikipedia.org/wiki/Violet_Oakley