Shouldn't Have Thought About It Too Long...
I made a mistake today...
I woke up about 15 minutes before my alarm and instead of getting up and just starting my day early, I let myself lay in bed and think about my relationship problems. Repeat after me, everyone: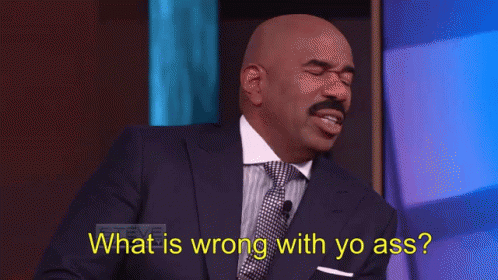 Because now I'm mad.
I have dated four people (an outrageously high number, I know...), two men and two women. Or, should I say, I've attempted to date one man and two women because out of these four relationships, three of them have ended the same. I realized that the other person was not into me because they made no efforts whatsoever after the first week or so of getting to know each other but they didn't have the guts to tell me they weren't interested. So eventually, I wait to see if they will text me back without me asking for a response...and I never hear anything from them again.
In case anyone was thinking "Well, wait just a minute, lady; what happened to the other guy?" Well, man #2 was actually interested in me very much but I was sadly not attracted to him at all so I called him and told him it wasn't going to work out...like the goddamn considerate adult I am.
And that leads into what I'm pissed about this morning.
What about me is so horrible/annoying/boring/etc that I am not entitled to the common courtesy of being told "Sorry, I'm just not into this anymore"? 
I am very upfront when I date people. I tell them that I am very slow on the uptake on nonverbal social cues so if you need me to know something, it's best to actually tell me what they are thinking/want. And at the time they all say the same thing "Oh, that's great to hear. I hate it when people don't tell me what they are thinking. I'll definitely do that"...
And they never motherfucking do...
It just makes me so angry to think about. I know that I can be a bit annoying and I tell people that it's okay to tell me to back off. I won't be offended because I know that I'm bad with noticing that oh, it's time to calm down a bit. So even though I am upfront with how I function as a person, it's like they are shocked and pissed liked I lied to them. It's the only explanation I can think of why I apparently don't deserve the courtesy of a text telling me that things just aren't working out.
And it makes me sad too. I'm always being told (even by the people that eventually ghost me) that I'm "so nice" and "a great person to be around" but then why does everything always end the same? Are people lying to me to spare my feelings? Because if they are, my feelings don't feel very spared when I have to go through this all the time. It actually hurts a lot to be lied to to build me up when it's starting to seem like it's not true considering the physical evidence I have. Because, if there's something wrong with how I act, how am I supposed to correct it without someone being upfront about it?
So yeah...lesson learned, next time just get the fuck out of bed....
1